A&D Inspection Unveils ProteX X-ray Equipment
New global product line premiers at PACK EXPO International, featuring compact design, superior imaging capabilities and easy installation 
CHICAGO – October 14, 2018 – For manufacturers striving to ensure maximum efficiency on their processing lines, A&D Inspection is introducing the ProteX X-ray series – AD-4991-2510 and AD-4991-2515 – in its booth (E10104) at PACK EXPO 2018.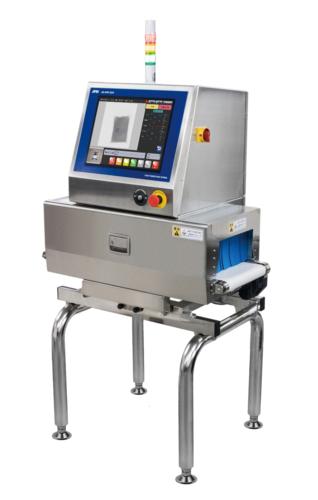 The ProteX X-ray equipment was designed with as compact a footprint as possible, ensuring manufacturers can incorporate the most advanced aspects of product inspection into almost any point of their production processes. 
The new series also uses the industry's most advanced imaging technology to provide high-detection sensitivity for a broad range of manufacturing applications – from food production to pharmaceutical processing. Its enhanced imaging capabilities also consistently detect the smallest contaminants, while also conducting product integrity checks, from mass detection to missing component and shape detection.
"With the global launch of our new X-ray product line, A&D is now able to offer our customers a complete product inspection portfolio," said Terry Duesterhoeft, President and CEO, A&D Company – Americas. "The superior value and combination of features – from compact size to simplistic installation to superior imaging capabilities – mean manufacturers will be able to leverage the benefits of x-ray performance and functionality in existing product lines, with very little reconfiguration required." 
 
The ProteX series provides a series of algorithmic inspection options to provide manufacturers with the most advanced imaging options. These include the capability to measure the overall mass of a packaged product, as well as missing component detection, to discern if a blister pack of pills or package of muffins is missing a product in one of its compartments. In addition to inspecting for contaminants that include metal, glass, stone and bone, shape detection can also discern if the correct product is in the package. 
The A&D ProteX Series AD-4991-2510 and AD-4991-2515 features the following key benefits:
Most compact design available in class to allow for easy in-line integration, with minimal reconfiguration of existing equipment;
A user-friendly interface to simplify setting up new products with a 15 inch touchscreen
An improved IP66 rating and easy-to-clean sanitary design to allow the system to be used across numerous verticals; 
Standard quick-ship from existing inventory for manufacturers who need product inspection systems within a couple weeks; and  
Superior inspection algorithms standard on both lines, including shape detection, mass detection and enhanced contaminant detection.
"The ProteX Series is designed to protect our customers by allowing multiple inspection capabilities in a small form factor, which ultimately leads to a quicker payback on investment," said Daniel Cannistraci, Product Manager for A&D Inspection. "And as with our other product lines, we empower customers to meet or exceed their food safety standards."
The ProteX series is available now in the Americas, with a continued global rollout through 2019.
###
About A&D Inspection:
A business unit of A&D Engineering and part of the A&D Americas family of businesses, A&D Inspection is based in San Jose, Calif.  Leveraging A&D's more than 40 years of experience with technology innovation in the development of precision measurement and control products, A&D Inspection provides quality assurance and critical control points for application in myriad manufacturing industries. For more information on the newest A&D division, please visit http://www.andinspection.com.
Media Contact:
Liz Kohler 
[email protected] 
Mobile: 414-828-6198