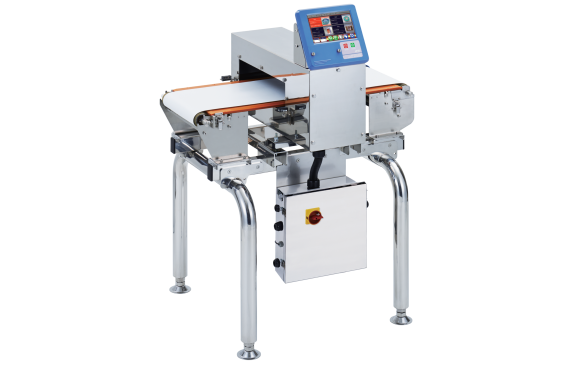 Key Features
IP65 Compliant
Stores 100 Results in Memory
Easy Networking via LAN
40 YEARS OF PROVEN ACCURACY

High sensitivity detection
You can conduct high sensitivity detection with simple and easy operation. The optimal sensitivity can be set through the auto sensitivity settings.

Stores up to 1000 products
Products can be divided into 10 different groups with up to 100 products able to be recorded within each group.

7 inch color touch panel
The display utilizes a high visibility touch panel color LCD with friendly Graphic User Interface (audio guidance support function included).

IP65 and IP69K optional
Protected from dust and water to IP65 standards. Hygenic design with the entire system washable. We offer an IP69K optional upgrade.

Image import from USB
Product images can be quickly uploaded to the checkweigher from a USB flash drive, making product identification and upload fast and simple.
Features

Our industrial grade in-line metal detection system can detect ferrous, non-ferrous, stainless steel contaminants as small as 0.2 millimeters while also minimizing false rejects. Plus, our modular approach, coupled with our stainless steel construction and wash down rating, allows users to quickly disassemble the machine for easy maintenance and sanitary cleaning.

The AD-4971 Series Metal Detectors are all IP65 rated (dust and water resistant, IP69K optional), which makes them ideal for the food and beverage industry as well as nutraceutical and pharmacuetical markets.  Beyond sensitivity, this series offers stability, a user-friendly interface, high repeatability, and automated monitoring.

Features include:

Protected from dust and water to IP65 standards. Hygienic design with the entire system washable.
Suitable for use in HACCP program.
Automatic sensitivity setting function.
Easy operation with 7-inch color touch panel.
Variable belt speed of 10-60m/min.
Standard Ethernet I/O allowing easy networking via LAN.
Inspection history function with the ability to record 100 inspection results in the internal memory. 
Capacity can be increased by using USB memory.
Cleaning and maintenance is simple with a detachable conveyor belt.

Model Comparison

 
 
AD-4971-3510 
AD-4971-3517 
AD-4971-3525 
AD-4971-4517 
AD-4971-4525 
Aperture size
Width
350mm | 13.7"
350mm | 13.7"
350mm | 13.7"
450mm | 17.7"
450mm | 17.7"
Height
100mm | 3.9"
170mm | 6.6"
250mm | 9.8"
170mm | 6.6"
250mm | 9.8"
Pass height
80mm | 3.1"
150mm | 5.9"
230mm | 9"
150mm | 5.9"
230mm | 9"
Conveyor belt width
250mm | 9.8"
250mm | 9.8"
250mm | 9.8"
350mm | 13.7"
350mm | 13.7"
Conveyor length
800mm | 31.5"
800mm | 31.5"
800mm | 31.5"
800mm | 31.5"
800mm | 31.5"
Conveyor belt speed
10-60m/min | 32 ~ 196 ft/min
10-60m/min | 32 ~ 196 ft/min
10-60m/min | 32 ~ 196 ft/min
10-60m/min | 32 ~ 196 ft/min
10-60m/min | 32 ~ 196 ft/min
Dust / water resistance specifications
IP65 compliant
IP65 compliant
IP65 compliant
IP65 compliant
IP65 compliant
Features
Touch Panel
✔
✔
✔
✔
✔
2D graph display
✔
✔
✔
✔
✔
Menu with graphic display
✔
✔
✔
✔
✔
Audio guidance for operation
✔
✔
✔
✔
✔
Supports Modbus
✔
✔
✔
✔
✔
FTP server function
✔
✔
✔
✔
✔
History can be recorded in USB memory
✔
✔
✔
✔
✔
Accessibility to I/O box
✔
✔
✔
✔
✔
Maintenance
Direct drive motor, quick lock conveyor assembly, continuous belt
Direct drive motor, quick lock conveyor assembly, continuous belt
Direct drive motor, quick lock conveyor assembly, continuous belt
Direct drive motor, quick lock conveyor assembly, continuous belt
Direct drive motor, quick lock conveyor assembly, continuous belt
PLC interface (standard feature)
Modbus RTU/Modbus TCP, FTP server function (LAN), 
Modbus RTU/Modbus TCP, FTP server function (LAN), 
Modbus RTU/Modbus TCP, FTP server function (LAN), 
Modbus RTU/Modbus TCP, FTP server function (LAN), 
Modbus RTU/Modbus TCP, FTP server function (LAN), 
Relay output/Universal input
Relay output/Universal input
Relay output/Universal input
Relay output/Universal input
Relay output/Universal input
External input
Non-voltage contact input 4 points
Non-voltage contact input 4 points
Non-voltage contact input 4 points
Non-voltage contact input 4 points
Non-voltage contact input 4 points
External output
Relay output 8 points
Relay output 8 points
Relay output 8 points
Relay output 8 points
Relay output 8 points
Power supply *2
Single phase AC100V-240V (+10% / -15%), 50/60Hz 180VA
Single phase AC100V-240V (+10% / -15%), 50/60Hz 180VA
Single phase AC100V-240V (+10% / -15%), 50/60Hz 180VA
Single phase AC100V-240V (+10% / -15%), 50/60Hz 180VA
Single phase AC100V-240V (+10% / -15%), 50/60Hz 180VA
Conveyor Load Capacity
4kg
4kg
4kg
6kg
6kg

Downloads