Case Study: Something to Noodle on
Profits Increased in Multiple Areas of the Assembly Line for Food Manufacturer, Yamachan
THE COMPANY:
Yamachan – the "Ramen noodle for your needs" – produces various high quality, authentic Japanese Noodles for restaurants across the country. The company manufactures customized noodles based on request and the needs of the restaurants it serves using Japanese-made machines and techniques. They also produce varieties of retail products including mild, rich, and no MSG noodle packages. 
THE BUSINESS CHALLENGE:
With restaurants as its primary business base, Yamachan wanted to ensure they were providing the same portion sizes in each package of noodles to maximize cost efficiencies for its customers. In addition, as a food manufacturer, the company is held to high standard for product contaminants, and wanted to make sure each package was free of metal fragments. 
THE SOLUTION:
Product managers at A&D Inspection recommended installation of the AD-4971-3517 metal detector, the AD-4961-6k-3050 checkweigher with rejector for over- or under-weight products on the assembly line, and the ProteX X-ray inspection system as part of the production process and after the packing process.  This combination ensures 100% Product Inspection for Yamachan.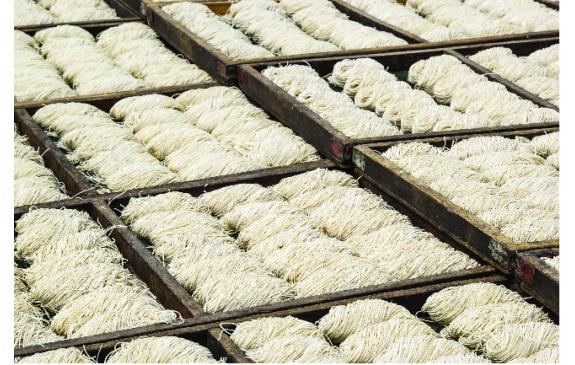 Noodles are portioned prior to going through the bagger.
  After the product is bagged, it then travels through the metal detector and checkweigher.
THE RESULTS:
Following implementation of the checkweigher and metal detector as part of the production process, improvements were immediately recognizable, and due to the easy programming and data analysis capabilities in the A&D Inspection equipment, immediately documentable audit trails and inspection history reports the following:  
Accurate measurement within 1g +/- repeatability
Accurate metal detection readings down to 1mm Ferrous
Worker efficiency improved with a reduction of rework
Quality assurance team trusts A&D with inspection of over 180,000 packages per month 
Most recently, Yamachan also installed the new ProteX X-ray system to augment their quality assurance efforts.  Watch the video below to see how X-ray inspection helps Yamachan detect foreign materials, including a variety of potential contaminants. 
Yamachan was so pleased with their results, Hirotaka Yamashita COO/ Director sat down with us for an interview.  
A&D: What improvements to the business process did you see?
Yamachan: "Accurate measurement and reliable metal detection readings gave us to confidence in A&D's systems."
 
A&D: What financial improvements has the business been able to recoup?
Yamachan: "The cost was affordable which allowed us to invest and add more A&D machines. Currently we have 3 metal detectors and 3 checkweighers. We plan to add more in the future as well."
 
A&D: What stands out about A&D inspection products? 
Yamachan: "The touch panel and ease of use. Systems require very little maintenance and operators rave about the ease of use."
 
A&D: How has using the metal detector and checkweigher in tandem helped to improve your production line, worker efficiency, and quality assurance team?
Yamachan: Production line - "Improved accuracy and reliability. Less downtime overall and easy to service the equipment".  Worker efficiency - "(the) machine is very user friendly and once you set the products up you really don't have to make adjustments."  Quality assurance team - "Our team relies on the audit train function and A&D is developing a special yield rate firmware version for our needs."
Why Trust A&D Inspection?
From raw ingredients to the store shelves, product inspection is a key component of ensuring quality in your manufacturing facility, one you shouldn't trust to just anyone.  
A&D is an established global company that has been a trusted provider of long-lasting and reliable measurement instrumentation for over 40 years.
A&D provides checkweighers and metal detectors suitable for direct food contact, meeting USDA standards.
Our systems can handle the environment and are designed to deliver reliable and repeatable results, and they are commonly used throughout the food and beverage industry today.
Our intuitive software and user interface is easy to configure, making product changeover as simple as pressing a button.
Get an expert's opinion on the right inspection equipment for your application.